Katzen
Internationaler Champion
Yamila vom Lilientor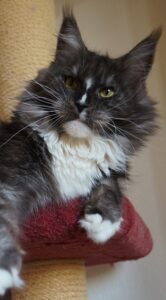 Eltern: Solero vom Lilientor x IC Isabella vom Lilientor
Fellfarbe: black smoke / white | Augenfarbe: grün
Ich habe mich für diese süße Maus in der Farbvariante entschieden, denn sie hat den gewissen Ausdruck, den ich so liebe ;-). Mila, so wird sie von uns liebevoll gerufen, stammt aus einer großen Linie und wir sind gespannt, wie sich diese süße Puppe weiter entwickelt.
Show: nom. für Best in Show
HCM N/N

Fotos zum Vergrößern bitte anklicken 
Fotos und Stammbaum (hier klicken)
Internationaler Champion
Megan of Forter´s Home
Eltern : Alsciaukat´s Illusion x Ch. Whoopi of Forsters Home
Fellfarbe:  black tabby ticked | Augenfarbe: grün
Megan erfreut  mich jeden Tag. Sie ist ein tolles Mädchen und hat auch schon in der Ausstellung überzeugen können. Megan erinnert mich immer ein wenig an eine Wildkatze vom Look her und das Wesen sanft wie ein Reh. Ich freu mich sehr mit diesen tollen Linien (u.a. aus Amerika und Frankreich) arbeiten zu können.
Megan ist eher noch der "alte Typ" unter den Maine Coons. So habe ich die Coonies schätzen und lieben gelernt 🙂
Show: 2x nom. Best in Schow
HCM N/N
Fotos zum Vergrößern bitte anklicken 
Fotos und Stammbaum (hier klicken)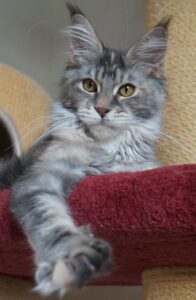 C
Rapunzel
(noch unter Youngster zu sehen)
Eltern : Salem vom Lilientor x Barinkahearts Brooklyn

Fellfarbe: blue silver torbie classic  | Augenfarbe:

Show:
HCM N/N
Fotos zum Vergrößern bitte anklicken 
Fotos und Stammbaum (hier klicken)
C
vom Lilientor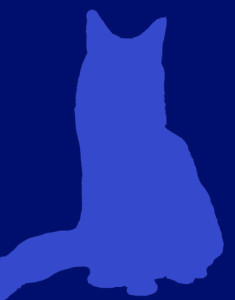 Eltern:
Fellfarbe:
……
Show:

Fotos zum Vergrößern bitte anklicken